DC Power Stilts is looking for people and teams who love bocking and want to organize and build up their bocking community! Spread the word, get paid, get discounts. Everybody wins!
Program Benefits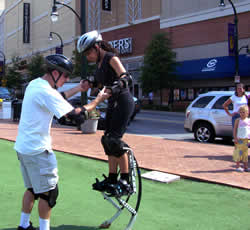 Earn a Sales Commission
All you have to do to earn a good commission is to show off your stilts and offer people in your community a discount!
Product Discounts
Get major discounts on products for your own use. Pay only dealer cost! (eligibility starts after a few commissions)
Community/Team Discounts
Offer your customers or team a discounted price through the use of a discount code. Discount amounts are flexible and determined by you!
Branding and Promotion
Use the DC Power Stilts images, logos, online resources, and other materials. We'll help you with promotional support and materials.
Events/Programs
DC Power Stilts encourages you to organize locally and may provide support, information or assistance to community building efforts.
Don't Worry
After you refer a customer, they will get the same great service and guarantee from DC Power Stilts without you having to worry about details of shipping, ordering, or ensuring customer satisfaction.