In addition to a free ten-minute tryout lesson, private or small-group one-hour lessons are also offered.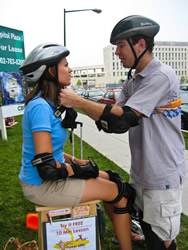 What's Included
$65 is for a private lesson, including stilt rental, protective gear, personalized instruction, and refreshing drinks.
Lessons consist of structured learning: a mix of demonstrations, fun exercises, goals, and challenges, along with continual interactive feedback.
By the end of a one-hour lesson, you will be as balanced and confident atop spring stilts as when you are walking normally. You will have mastered some key skills and most likely be jumping. We'll also get you started towards learning some impressive tricks.
A $20 lesson discount is offered when you order your own pair of power stilts at the same time.
Pads and a signed liability waiver are provided and required at all activities with DC Power Stilts.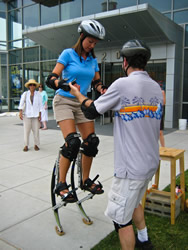 Who
Individuals can book lessons or groups can book their own lesson. In order to maximize individualized feedback, groups are limited to five people or less.
Private group lessons with one or two friends tend to be very enjoyable, so we do offer a discount to small groups:
Book a semi-private lesson and get a $30 reduction for each friend participating.
Lessons are available for students between 8 and 99.
Students under 18 need to have parental permission (a liability waiver signed by a parent.)
Students over 88 should have permission from their health care provider. (a waiver signed by their primary doctor.)
Where
Friendship Heights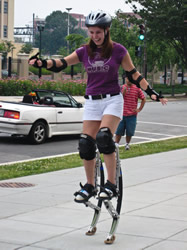 Other suitable Washington, DC and suburban locations are possible. We just need a park with flat space, not too much foot traffic, and nearby parking. Suggest a convenient location when you book.
When
Lessons are available weekends and by appointment. Lessons are not held if it is rainy or wet for safety reasons.

Add to your shopping basket:
Private One Hour Lesson (Beginner)
then sign up to schedule, or suggest a location.
Lessons may also be purchased with check or cash.