Poweriser Advanced: $399.00
(for teens and adults)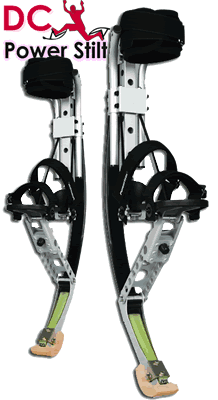 The flagship stilts from Poweriser, designed for dependability, comfort and performance. While the basic functions are the same as a classic model, a pair of Advanced model stilts offers some major innovations:
Improved velcro bindings with wide, comfortable strapping
Strengthened footplate
Cuff adjustability gives you a custom fit
Strengthened hoof assembly
Spring cover protects spring
Self-locking nuts and strong connectors
Lightweight aluminum
Additionally, this model is easy to put on and take off. You can dismount from these without even sitting down, which makes them the perfect model for urban environments.
Poweriser advanced stilts have a stylish appearance. Good fit and finish, with black elements contrasting with pure aluminum.
Stand 18" taller
Jump 6ft high
Walk faster than any else
Run 30mph
Perform acrobatic feats

Have fun!
Easy to Learn!
Most people can balance on stilts after only a few minutes. After a few hours, you will be walking and jumping confidently.
Spring Sizes:
5070 (110-154lbs)
7090 (154-198lbs)
90120 (198-265lbs)
Tip on choosing your spring size: If you are at the high end of your range, (ie 150lbs, or 195lbs), many people prefer to buy the one for the next higher weight range, as it gives them more potential energy for power jumps.

:
Powerisers
are sold out! Consider the
7s GT Cobra S-Rex
which are available.
No shipping charge if picked up in person.
---
Looking for a newer design and more responsive spring?
> Consider the 7s GT Cobra for just a few bucks more