Poweriser Standard: $280.00
(for teens and adults)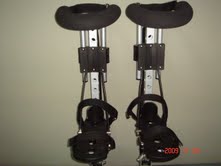 You have found the model that offers the most affordable spring stilts you can buy with well established quality and durability of the Poweriser brand.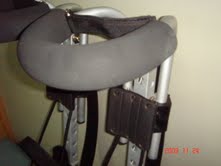 When power stilts were first invented, they retailed for over $1500, and were only accessible to professional entertainers. Now for the first time ever, globalization and mass production brings the fun affordably to you!
Same Mechanics as the Advanced model
These stilts are constructed with a thick aluminum frame that stabilizes a space-aged fiberglass leaf spring, The mechanics and parts of the frame are exactly the same professional quality as the Poweriser Advanced stilts.
This model features a supportive knee bar, matching calf brace, and velcro foot straps.
This model is recommended for folks who are on a budget and not sure if they can commit to the more popular stilts that come with cuffs. These stilts can be upgraded at a later date.
Stand 18" taller
Jump 5-6ft high
Walk faster than any else
Run 25mph
Perform acrobatic feats

Have fun!
Easy to Learn!
Most people can balance on stilts after only a few minutes. After a few hours, you will be walking and jumping confidently.
Spring Sizes:
5070 (110-154lbs)
7090 (154-198lbs)
90120 (198-265lbs)
Tip on choosing your spring size: If you are at the high end of your range, (ie 150lbs, or 195lbs), many people prefer to buy the one for the next higher weight range, as springs will give a little over time and it allows more potential energy for power jumps.

Due to their popularity the Poweriser Standard models have sold out nationwide. The first 2015 shipment has not been scheduled yet.
Sign up
or
Join our Facebook
or
Twitter
to Recieve an announcement when they are back in stock.
No shipping charge if picked up in person.
---
Looking for more comfort and performance?
> The Poweriser Advanced and 7s GT Cobra use a cuff system.
Looking for Kids Stilts?
> Consider Poweriser kids which are designed for users up to 110lbs