Poweriser Safety Pads - $25.00
(Sm, Med & Lrg)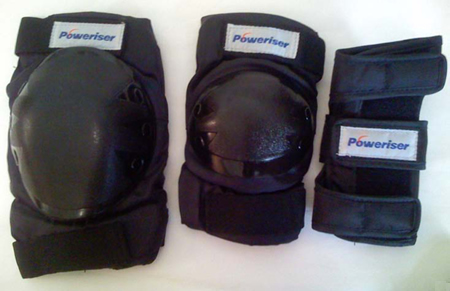 Note, we now suggest Triple Eight Pads instead of this product.
This set includes wrist and palm protectors, kneepads and elbow pads.
Padding is cool and should ALWAYS be worn while operating power stilts. While a fall is uncommon, those who push the boundaries of their experience may take a spill. At normal speeds, and with proper protective gear, the effects of most falls are minimal.
Pads are required at all activities with DC Power Stilts.
Sizing Estimate
small – for kids
medium – for teens and smaller adults
large – for adults (150+lbs)
Should your sizing be off, exchange the item for the proper size, or better yet, try on our demo pads prior to making your order.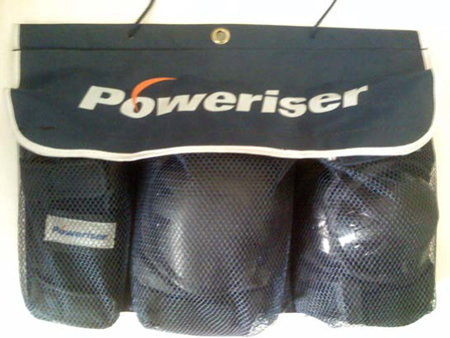 Comes with a convenient pad organizer
(Padding is cool and should ALWAYS be worn!)

Add this to your Paypal shopping cart
:
No shipping charge if picked up in person.
Please note that these pads are not designed for multiple impacts. Should you fall and damage the pads, I suggest replacing them or shoring them up with fabric tape.