DC PS Foot Straps - $75.00 New!
Upgrade your Poweriser Bindings to a ratcheting metal buckle with the DC Power Stilts Binding Upgrade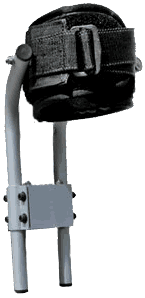 Deluxe Cuff Upgrade Kit - $145.00
(for two stilts)
The Advanced style cuff was a major innovation introduced with the Poweriser Advanced model and is now available to all stilt owners who have leg loops.
The custom-fit and improved adjustability leads to a significant improvement in comfort, a tighter fit (less rubbing), and improved control.
The cuff upgrade also allows for dismounts without even sitting down, which makes them the perfect for urban environments.
Each of the metal bars can pivot to adjust to wider and narrower legs, and by adjusting them off-center can even compensate for an uneven stance.
Finally, the deluxe upgrade kit includes the advanced-level aluminum riser clamp which provide support and stability needed for the optimum performance of the upgraded cuffs.
This deluxe kit will bring other brands of stilts into the "cuff age", since most other brands have the same bolt pattern, but please verify this with your dealer.
Powerisers are sold out!
No shipping charge if picked up locally (DC Metro Area)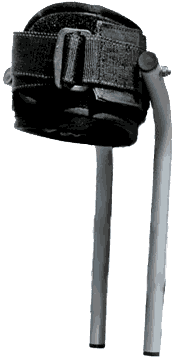 Poweriser Advanced Cuffs - $130.00
(for two stilts)
The advanced cuffs (without the aluminum riser clamps) are suitable for replacing cuffs which have been damaged or worn.
Note that it is not suggested to use this with classic-style plastic clamps, be sure to get the upgrade kit if you are upgrading the classic model.
Powerisers are sold out!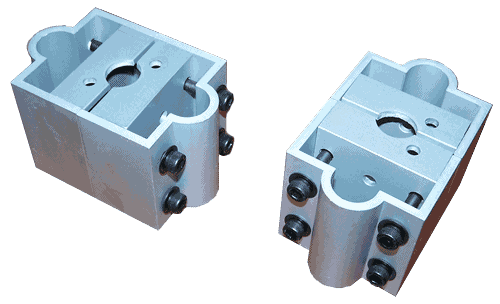 A set of four aluminum cuff clamps from the Poweriser Advanced line of stilts. Nice adjustability and durability, (for use with Poweriser cuffs).
These four clamps are included with the deluxe cuff upgrade kit. Note that the bolts are not included but are available by special request.
Powerisers are sold out!
See more on the parts catalog page: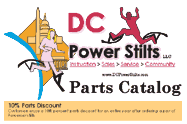 Installation
If you are a Poweriser customer and order an upgrade kit through us, we'll provide installation free of charge. (you must be able to drop it off/pick it up locally)