Predator FR7 Hybrid Helmet - $52
(Two sizes: Small/Medium or Large/X-Large)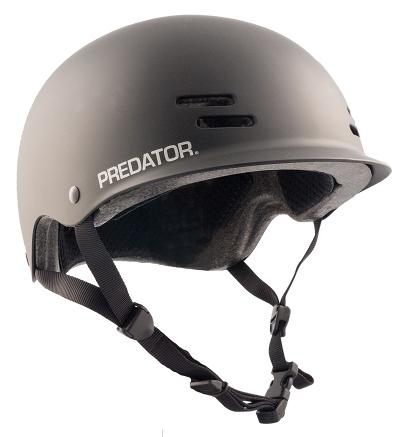 The FR7 Hybrid features a unique impact liner that combines both hard EPS foam and soft EVA foam, a stylish visor that does not impede vision, 12 vents and a low-profile, classic fit.
Helmets are required at all activities with DC Power Stilts.
We also suggest they be worn at all times while powerbocking. In order to give you the ability to make the best choice, all users should at least own a good helmet.
Confidence that you are wearing a high-performance safety helmet so you can try new and exciting stunts you would never attempt with out a helmet. (But please – be conservative!)
The hybrid construction combines soft EVA foam around the front and sides of the helmet for a flexible shell, maximum comfort and multi-impact protection along with a EPS foam insert in the rear of the helmet to provide greater impact protection for a hard fall to the back of the head.
Sizing
head size
head size (cm)
Hat Size
note
Small/Medium
20.25-22.75 inch
54 - 58cm
6.75 - 7.25
Fits most kids and teens plus petite-average women
Large/XL
22.75-24.375 inch
58 - 62cm
7.25 - 7.75
Fits most men and some women
Both sizes come with a fit kit to dial-in the fit for maximum comfort.
Color: classy in Matte Black, matches your stilts and goes with anything!
Helmets are cool and should ALWAYS be worn while operating power stilts. While a fall is uncommon, those who push the boundaries of their experience may take a spill. At normal speeds, and with proper protective gear, the effects of most falls are minimal.
(Also good for use with roller sports)
Should your sizing be off, exchange the item for the proper size, or better yet, try it on prior to making your order.

Add this to your Paypal shopping cart
:
No shipping charge if item is picked up in person.