Poweriser Springs - $120.00 per pair
(for Classic and Advanced Models)
Poweriser springs are high-quality fiberglass leaf springs that will provide maximum power jumps and are engineered with redundancy to prevent sudden failures. Each spring comes with a rubber spring guard.
When to Replace
When spring performance starts to decline, you should plan on ordering replacements. The fiberglass will slowly start to loose it's resistance and may splinter. Other brands of spring have been known to snap, but with Poweriser springs, you'll just find yourself "bottoming out" more often with normal movements.
While there are many factors that affect wear and tear, springs tend to last 50-300 hours of normal use.
Tip: Choosing Spring Size
Generally you want to replace your springs with the same spring you originally had. However, if you find yourself pushing the limits of your equipment and want to get higher jumps, then it's a good time to consider trading up for a stiffer spring. The main downside is that it requires much more energy for a lighter person to initiate motion.

Add this to your Paypal shopping cart
:
Parts Discount for Stilt Customers
Buy your stilts from DC Power Stilts and enjoy a 10% Parts discount for an entire year!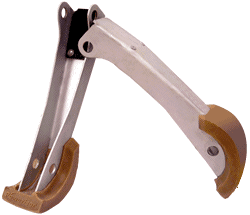 Hoof Replacements - $38.00 per pair
(for Classic and Advanced Models)
Poweriser hoof rods are made from lightweight aluminum, and include a directly molded-on rubber pad for traction and control. They attach directly to the spring and frame.
When to replace
As you add hours and miles to your Powerisers, you'll find the bottoms will wear out over time. If you can see metal where the pad should be, it's time to order another set!
Tip:
Order two or three pairs at once to save on shipping.
Hoof lifespan varies greatly depending on the type of use, the ground surface, etc.
Tip: Hoof Modifications
For a more economical solution, you might also want to consider securing tire or padding bits on your hoof. Be extra careful with the attachment as separation at a bad moment could lead to major damage to you.

Add this to your Paypal shopping cart
:
See more parts on the parts catalog page: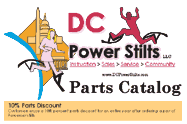 Installation
If you are a Poweriser customer and order your parts through us, we'll provide installation free of charge. (you must be able to drop it off/pick it up locally)