Poweriser Kids 3050: $215.00

ages 8 through 12 (66-110lbs)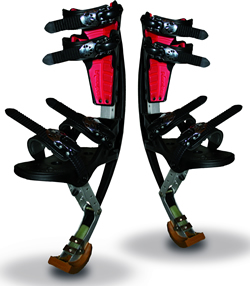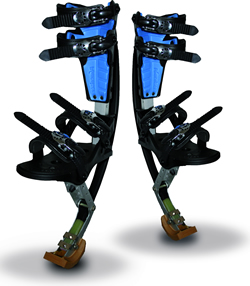 What an amazing and fun activity for kids! With ten extra inches, balance and confidence will come from standing eye-to-eye with taller kids, Within only a few hours, your child will be running faster, jumping higher, and having an extremely memorable experience! Do you remember how you felt when you jumped on a trampoline? Give kids the feeling of being a superhero, or at least a feeling like there is a trampoline everywhere you go.
Easy to learn
While most adults can balance on stilts after only a few minutes, its amazing how intuitively children can learn and take powerbocking to it's full potential.
Your kid will be the first one on the block and the envy of all their friends.
Tricks & Moves

(Padding is cool and should ALWAYS be worn!)
Pads and a completed liability waiver are required at all activities with DC Power Stilts.
Specs:
Operator weight: 66 to 110 pounds.
Raises children 10 inches.
Jump higher & run faster.
Quality construction (with manufacturer guaranty)
Designed for natural movement with 5-10 min average learning curve.
Safe to Use (when following manual guidelines)
Update: Please note that the heavy buckles pictured above on the last year's models have been replaced with light, sleek velcro webbing that gives you a better fit.


Poweriser Kids have sold out and the manufacturer went out of business.
Sign up
or
Join our Facebook
or
Twitter
for an announcement when they are back in stock.
No shipping charge if picked up in person.