Our Business is All about:
Instruction > Sales > Service > Community
We are the only company in America that caters exclusively to spring loaded stilts, offers instruction, try-outs, and retail sales. Also unique, we offer the high-end, European 7s brand stilts.
Product experts, DC Power Stilts offers a high level of service, and support. We'll answer your questions, help you get started and give you the opportunity to take a try-out lesson. We offer custom-fitting free when you pick up your stilts at our HQ.
Our Story
As an early adopter in the mid 2000s, David found that not only did he enjoy stilting around town, but he also wanted to share with so many people who would express interest in the sport. He found that he had a knack for teaching the sport to others, and is still one of the few Americans promoting this growing new sport.
Today we operate as a licensed small business with a growing customer base operating in the state of Maryland, based at Friendship Heights. Contact us
Buy your power stilts from an authorized dealer & support, small business!
Meet the Owner: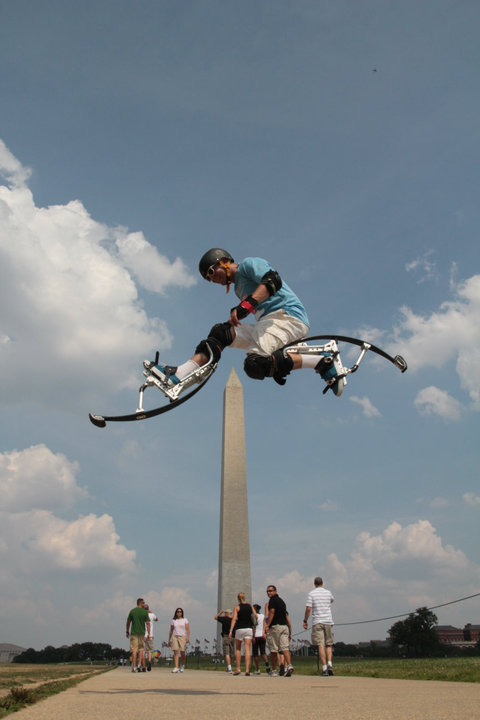 David doing a split kick during Capital Bocking USA
DC Power Stilts is owned and operated by an expert skier, inline skater, and intermediate-certified hang glider pilot, who has experience organizing communities and teaching each of these sports. Of course, David is an advanced bocker, and often experiences life from 18" higher up. His goal is to help people have a little fun and enjoy everyday and that's why he wants to share his passion for powerbocking.
> Find out more about the owner, visit his personal website
Product Brands
DC Power Stilts pays attention to all available brands and product lines. We look at product reputations, designs, and most importantly, we jump on each brand of stilts before we offer it.
While no one brand or product is perfect for everyone, if we carry it, we recommend it. Poweriser brand stilts, and 7 League Stilts have the best performance and durability compared to lower-priced knockoffs. Because your safety depends on the stilts performing properly, we don't suggest imitation brands.
(If you are in the market for professional $1,500 stilts, there may some additional/custom brands to consider... contact us for more info)