Bring an Unforgettable Experience to your Next Event

A unique and 100% interactive, fun activity that will surely be all the buzz among your guests. Whether we are the main attraction or an interactive station, your participants will make memories, practice balancing, get exercise, and have fun while learning something new with friends.

Prior to lessons, we like to include a brief 3-minute recreational stilts demonstration to demonstrate running, jumping, and intermediate-level tricks.

The $125.00 cost includes 3 hours of interactive try-out lessons.

Each hour allows for about 5 people to:
Be outfitted with protective pads and a helmet
Put on stilts from a perfectly elevated bench
Learn how to stand and walk on stilts
Practice for a few minutes with a partner as spotter
Get personalized tips and pointers
Learn basic jumping (if they have good balance)
Each person gets between 10-20 minutes on stilts.
DC Power Stilts: The Authority
We have taught over 500 people to walk on power stilts, jump or do tricks, and we are the most experienced in the entire United States. We have provided instruction for DC Digital Capital Week, The Pink Line Project, Dilettante Club, Capital Bocking USA, Red Rock Productions, and many more.
Save 25% When you order more than one experience!
Logistical Info - For Event Planning
Location requirements
We just need a flat dry space, paved with not too much foot traffic, and nearby parking. Parking lots, ball courts, & indoor spaces are ideal. A Minimum space needed is about 5 standard parking spaces, or 500 sqft, but the spaces can be arranged in any shape or nook. The location must be in Washington, DC area and nearby suburban locations.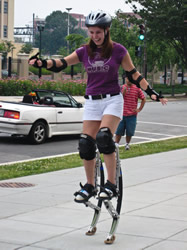 Participant Requirement
Participants will need to be between 66 lbs (about 8 years old) and 270 lbs.
Booking:
We can not guarantee availability until we have confirmed the details with you and received payment. We'll need to know a bit more about your format, plans and participants in order to be smoothly prepared. More advanced notice is generally good!
Liability
If your event will be covered by liability insurance, you can list DC Power Stilts as an "additional insured" entity and send us a copy, or we will provide our standard liability waiver to be signed by each adult guest and/or parent over 18.
Weather Policy:
For safety reasons we can not teach stilt lessons unless we have a hard, dry surface at the start of the lesson. We will refund your payment if the venue is outdoors and weather prevents us from starting the lesson.
Extras & Custom Solutions
Have a question about booking our interactive try-out experience? Contact DC Power Stilts
Higher Volume: About 10 participants per hour is possible with extra manpower.
Out-of-area location: may be possible for travel expenses
Pay to Play: We can charge participants directly ($15 each), and refund your fee for everything but the cost for the first hour.