Viking Black Skate Helmet - $22.00
(Jr, Adult)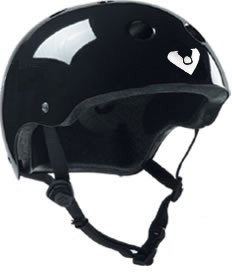 For a good quality, well-priced powerbocking helmet, go withViking.
Because black is always in style, this sweet looking helmet will keep you safe and looking cool when running around town, jumping at the skate park or any high energy part of your life. The Viking helmet is CPSC certified, so it will take the fall for you!
Each Viking helmet is fully adjustable, featuring perfect fit comfort chinstrap and additional inner padding to protect rider of all ages and sizes.
Helmets are required at all activities with DC Power Stilts.
We also suggest they be worn at all times while powerbocking. In order to give you the ability to make the best choice, all users should at least own a good helmet.
Confidence that you are wearing a high-performance safety helmet so you can try new and exciting stunts you would never attempt with out a helmet. (But please – be conservative!)
The Viking helmet comes in two sizes:
Adult (One Size Fits All), which will work for most people. It comes with different pads so that different folks can wear helmet and smaller heads get to enjoy lots of nice, comfy pads. (head size about 20.5-24")
Youth size is good for smaller kids, and also comes with padding that supports two sizes (head size 20.5" or less)
Helmets are cool and should ALWAYS be worn while operating power stilts. While a fall is uncommon, those who push the boundaries of their experience may take a spill. At normal speeds, and with proper protective gear, the effects of most falls are minimal.
(Also good for use with roller sports)
Should your sizing be off, exchange the item for the proper size, or better yet, try on our demo pads prior to making your order.
(Padding is cool and should ALWAYS be worn!)
No shipping charge if picked up in person.